The actor Verne Troyer has died, according to a statement posted to his social media pages on Saturday. He was 49.
Troyer, who was 2ft 8in tall, found fame in Mike Myers' Austin Powers spy spoof movies as Mini-Me, a clone of the villain Dr Evil. The last Austin Powers film, Goldmember, was released in 2002.
Other roles included Griphook in Harry Potter and the Sorcerer's Stone (2001), Coach Punch Cherkov in Myers' The Love Guru (2008) and Percy in Terry Gilliam's The Imaginarium of Doctor Parnassus (2009). Troyer also appeared in Madonna's video for her 1999 song Beautiful Stranger and made appearances on reality TV.
Having experienced struggles with alcoholism, Troyer was admitted to hospital earlier this month. His family announced his death in a statement posted to Facebook and Instagram.
"It is with great sadness and incredibly heavy hearts to write that Verne passed away today," the statement said.
"Verne was an extremely caring individual. He wanted to make everyone smile, be happy, and laugh. Anybody in need, he would help to any extent possible. Verne hoped he made a positive change with the platform he had and worked towards spreading that message everyday."
Among early tributes, the actor Marlee Matlin tweeted that Troyer had "a lovely smile with a caring and big heart, he helped raise money [for Starkey Hearing Foundation] for free hearing aids for deaf and hard of hearing people. RIP."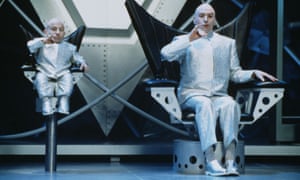 Baywatch star Carmen Electra shared a snap of the two of them on Instagram in which she can be seen holding Troyer in her arms. She simply posted "R.I.P Verne Troyer" along with the image.
The Troyer family statement added that "Verne was also a fighter when it came to his own battles. Over the years he's struggled and won, struggled and won, struggled and fought some more, but unfortunately this time was too much.
"During this recent time of adversity he was baptized while surrounded by his family. The family appreciates that they have this time to grieve privately."
In 2015, he told the Guardian he "grew up Amish, but my parents left the religion when I was a child".
He also said: "All my family is average-sized, apart from me. I didn't really think about my size until I got older, a few years before high school. It had never really fazed me that much."
His parents, he said, taught him "to be optimistic and independent. They made me feel that I could do anything I set my mind to, which has really helped me. They didn't make allowances for me because of my height. I had to do everything my brother and sister had to do."
Troyer's family statement did not give a cause of death but it added: "Depression and suicide are very serious issues. You never know what kind of battle someone is going through inside. Be kind to one another. And always know, it's never too late to reach out to someone for help."
The Gaurdian